I am convinced that I'm the oiliest person on this earth.  I have spent $100s of dollars trying to find products that would stop me from being oily.  After exploring numerous brands (both high end and low end), and complaining for years and years, I've finally come to terms with my skin type.  I just have to embrace the fact that I'm oily.  There's no combination going on.  I'm oily all over, not just my T Zone.  *sigh*  I understand that oily skin runs in my family.  There's definitely a genetic trait there.  I have no control over it, it was inevitable.  Hmph!!
I have found products that have helped to reduce the oiliness.  I recognize now that this will be the best that I can do.   Nothing will STOP me from being oily.  When I used to work for Clinique, my veteran co-worker, Joan, had to point out the difference between products not working at all and not giving the exact results you expect.  She made me realize that yes I could tell at least a slight difference when I used some of the products I was experimenting with below.  It's not always the two extremes.   Here is a list of things I've tried throughout the years and my thoughts on the results.
I used quite a few Clinique products.  I checked the website and I didn't see any of these products listed so unfortunately, I don't have pics or current prices for these items.  I'm not sure if they are still available.  It's been years since I've used them.  They were Pore Minimizer Instant Perfector,  Pore Minimizer T-Zone Control,  and Men's Oil Control Hydrator (this worked the best out of all of the Clinique products).
I'm still on the hunt for the best oil controlling product.  I've found combinations of products that work well, particularly blending skin care with make-up products.  So far this is my routine (only when I have extra time in the morning…which isn't the norm)
Coastal Scents African Black Soap
MAC Lightful Softening Lotion
MAC Brightening Serum/Charged Essence/Clinique's Total Turnaround Concentrate/Clinique's Even Better  (which ever one I have available at the time)
MAC Refined Skin Zone
Dr. Perricone No foundation Foundation SPF 30 mixed with MAC Studio Moisture Tint SPF 15 (I mix these because I wanted a higher SPF that still matches my skin.  The Dr. Perricone product is a bit too light and it's not a moisturizer.)
I may skip step 5 and use MAC Oil Control Lotion if I'm wearing a Foundation with an SPF in it.
MAC Prep and Prime Transparent Finishing Powder
Various powders/foundations (just depends on the day and how much time I have)
MAC Prep and Prime Transparent Finishing Powder again.  (This stuff is absolutely amazing.  It can be used before and after your make-up)
These steps will at least get me to 3pm without having to blot or reapply my make up.  If I use Revlon Color Stay, I can make it past 5pm.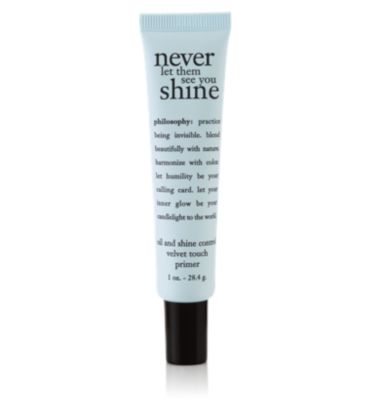 Retails for $20 for 1oz
Very disappointing.  I was a big Philosophy user before I worked for Clinique.  My mom introduced this line to me many years ago after watching demos on QVC. (LOL! I love my mommy for being brave enough to try skin car e based on TV advertisements)  This was before the brand was sold in dept stores.  The only place we could get it at the time was Sephora and on QVC.  I used to love Purity and Hope in a Jar and the Present.  However I still needed something extra for my extremely overactive sebaceous gland that caused me to be a "greasy monster".  I thought this would do the trick but a big NO!  There was a minimal difference between me not using anything at all vs. using this product.   I would be oily by 9am.  ;-(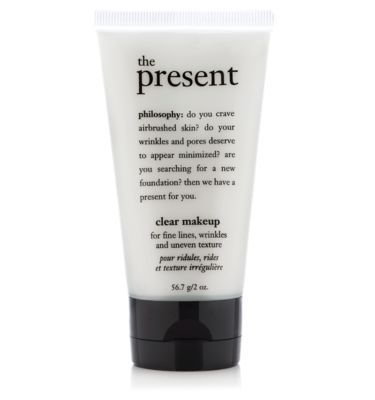 Retails for $25
Much better than the above product.  I really didn't have many problems with this.  It just wasn't THE best thing for me.   I would still get oily by noon.  It's a bit on the pricey side for me not to totally love the results.
Retails for $42
The most expensive out of all of the products that I purchased.  Overall this wasn't bad.  I liked the velvety texture of the product and the fact that a little goes a long way, however I was still oily by 12.  Not as oily, but I could feel it and see the shine.  It really did help my make-up look more like skin, and I didn't have to use as much foundation when I used this product.

This product retails for $28
I have to admit that I definitely see a difference with my make-up application, just as I did with the Lancome primer.  As far as controlling oil, ehh, it's okay.  I do see a difference with my make-up staying on longer when I use it though.  I truly love using it on clients.

This retails for $19.50
I've already reviewed this product in my *Product Battles* Series.  It's the best thing I've found so far in a Serum/Primer.  I can instantly tell the difference b/c you get an immediate matte finish.  It minimizes my pores and prevents me from being oily longer than the above products.  I can at least make it until 2 without blotting.

This product retails for $18
This WAS my go to product for controlling oil before the Skin Refined Zone came out.  I've reviewed this product in my *Product Battles* Series.  The finish is different.  It's more similar to the Lancome Primer with that velvety texture that just glides on your skin.  It feels more like a gel than a serum.  It does help with oil but not quite as much as the Skin Refined Zone above.  I think I could get to 1pm without blotting/retouching.
*All images were taken from the companies websites